2024 Toyota Tacoma Review
Get ready to redefine your epic in the new 2024 Toyota Tacoma! Reengineered from the ground up, this legendary machine continues to deliver, but is now more powerful, more capable and more connected to you than ever before. Whether you're overlanding across rugged terrain or kicking up monster rooster tails over sand dunes, there's a 2024 Tacoma that will be able to fit your needs and help you reach new limits.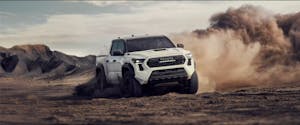 Destined for Legendary Status
After nearly 30 years of tackling the toughest terrain on Earth, the Tacoma nameplate has become synonymous with off-road dominance. Now we've raised the bar yet again for model year 2024. Available trail-focused features that include a multi-link rear suspension, Stabilizer Disconnect Mechanism (SDM) and Multi-Terrain Select with Crawl Control help to make this the most capable Tacoma we've ever produced.
The first-ever Tacoma Trailhunter is tough, rugged and, most importantly, ready to explore. Built from the ground up to tackle practically any adventure you can dream up, this exciting new Toyota Tacoma trim comes standard with integrated off-road equipment from ARB, Old Man Emu® and Rigid Industries®. Plus, with its available third-party aftermarket accessories line, Tacoma Trailhunter pickups can be outfitted into the overlanding rig of your dreams.
Rugged Tacoma Refinement
Wherever the trail takes you, the 2024 Toyota Tacoma helps you get there in style with everything you'll need to make the journey one to remember. Tacoma's 14-in. Multimedia Touchscreen is compatible with Apple CarPlay® and Android Auto™, and helps you and your passengers stay as connected as you want to be. The soundtrack of your journey is crystal clear as it pumps through the 10-speaker premium JBL® audio system. Plus, with an integrated JBL® Flex Portable Speaker, you can keep the music going once you arrive. 2024 Tacoma trucks even come with dual USB-C ports with 52.5W combined maximum power delivery, which means they can charge your devices up to twice as fast as a standard USB-C port.
Functionality in the Most Practical Form
With the press of a button on the key fob, or a push on a switch near either taillight, Tacoma's power tailgate can be conveniently opened or closed from inside or outside the vehicle. 2024 Tacoma trucks allow you to keep your gear running day and night with an available 2400W power inverter that's capable of powering up anything you'd plug into a standard household outlet. And because we know that an off-roader's work is never done, these latest Tacoma models offer available LED lights located on the third taillight, inside the bed, and integrated into the bed cap to provide surrounding light outside the vehicle. Regardless of where adventure takes you, the new 2024 Toyota Tacoma will be there to light your way.
2024 Tacoma Trucks Arriving Soon
New 2024 Tacoma trucks will be arriving soon at North Georgia Toyota, and our customers can't wait to see everything these innovative pickups will have to offer. Whether you're tackling treacherous trails or navigating busy city streets, the 2024 Tacoma was engineered to accommodate any type of adventure. Be sure to check back with us for more updates on the new Tacoma, including the inevitable release date. There's no other truck quite like theTacoma, and these latest models are creating a buzz unlike anything we've ever seen before.
Back to Parent Page