2024 Toyota Tacoma Towing Capacity
The 2024 Toyota Tacoma's towing capacity isn't just a statistic; it's an embodiment of engineering prowess and a harbinger of unparalleled performance. With an array of powertrain options, cutting-edge towing assistance features, and the unwavering support of distinguished dealerships like North Georgia Toyota, the Tacoma is ready to rewrite your towing narrative. Whether you're conquering rugged terrains or hauling substantial loads, the 2024 Tacoma stands as an epitome of strength, capability, and innovation, steadfastly propelling you forward.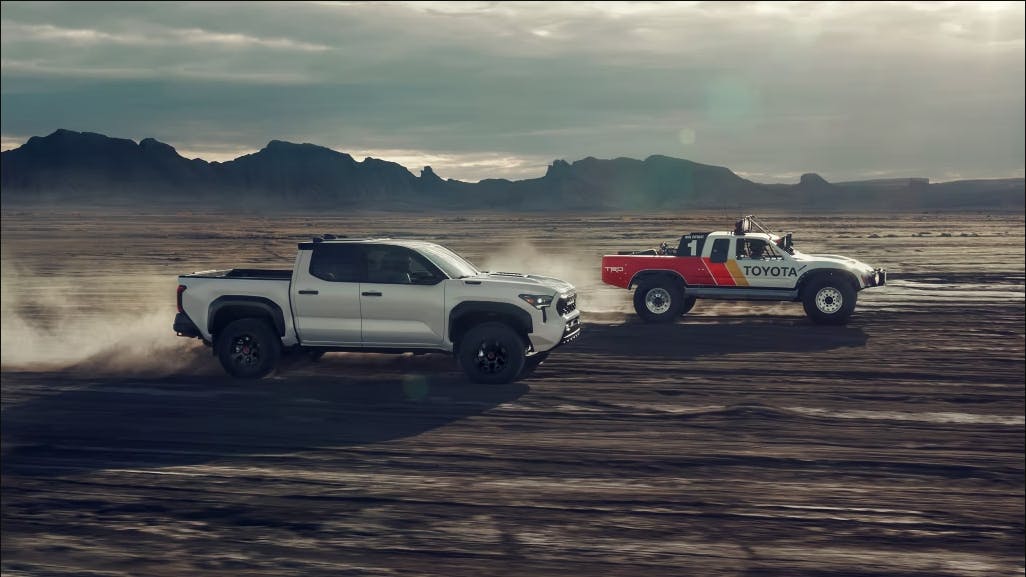 Harnessing Unmatched Towing Potential
At the heart of the 2024 Toyota Tacoma's awe-inspiring towing capacity lies a powerhouse of a powertrain. Bolstered by a formidable gas i-FORCE engine, this truck exemplifies the essence of brute strength, boasting a breathtaking towing capacity of up to 6,500 lbs. Whether it's hauling a trailer laden with off-road gear or transporting your cherished adventure companions, the Tacoma's powertrain ensures an unwavering authority over the road.
For those who embrace the future of hybrid technology, the 2024 Tacoma offers the i-FORCE MAX hybrid powertrain. This amalgamation of a 2.4L engine, a 48-HP electric motor, and an eight-speed transmission collaborates harmoniously with a 1.87-kWh NiMH battery pack. While slightly tempering the tow rating to 6,000 lbs, the hybrid powertrain introduces a realm of benefits including heightened fuel efficiency and a commendable reduction in emissions.
Unleashing Peerless Performance
The 2024 Toyota Tacoma doesn't merely parade its towing might; it dances with exceptional performance as well. The introductory SR grades come equipped with a spirited 2.4L turbocharged four-cylinder engine, churning out a spirited 228 HP and a commendable 243 lb-ft of torque. As you ascend the grade hierarchy, the Tacoma's performance strides amplify further, culminating in an impressive output of 278 HP and 317 lb-ft of torque, thanks to the all-new 8-speed electronically controlled automatic transmission with intelligence.
For the audacious souls yearning for an extra dose of vigour, the i-FORCE MAX hybrid powertrain beckons. This innovation entwines the 2.4L engine, a 48-HP electric motor, and the eight-speed transmission, culminating in a staggering 326 HP and an awe-inducing 465 lb-ft of torque. This means the Tacoma not only flexes its muscles while towing, but accelerates with unparalleled confidence as well.
Masters of Towing Assistance
While the 2024 Tacoma revels in its raw power, it's also meticulously equipped with a suite of features designed to ensure safe and convenient towing experiences. The Multi-Terrain Select system, which functions in both 4WD-High and 4WD-Low modes, empowers drivers to tailor settings to suit a myriad of terrains – be it mud, dirt, or sand – guaranteeing optimum traction and control.
But the innovation doesn't stop there. The new CRAWL Control function takes on the role of an off-road cruise control, steadfastly maintaining a chosen low-speed across varying terrains. The integrated trailer brake controller simplifies the art of towing, orchestrating seamless braking coordination between the truck and the trailer, thus enhancing stability and control.
As if that weren't enough, the Trailer Back Up Guidance lends a helping hand in navigating tight spaces during towing, while the Straight Path Assist diligently aids in keeping both the truck and trailer harmoniously aligned during reverse maneuvers. These ingenious features converge to bestow upon you a towing experience that's not only robust but incredibly manageable.
Navigating to North Georgia Toyota
When it comes to embracing the essence of the 2024 Toyota Tacoma's towing supremacy and delving into its remarkable capabilities, your journey naturally leads to North Georgia Toyota, situated in Dalton, GA. This distinguished dealership is synonymous with exceeding expectations, offering a spectrum of services tailored to meet your automotive needs.
North Georgia Toyota presents a captivating inventory of all-new Toyota models, including the formidable 2024 Tacoma, in addition to an array of quality used Toyotas and certified pre-owned Toyotas. Our committed finance experts diligently collaborate with local lenders, securing competitive rates and favorable auto loan terms to turn your Tacoma dreams into tangible reality.
Back to Parent Page