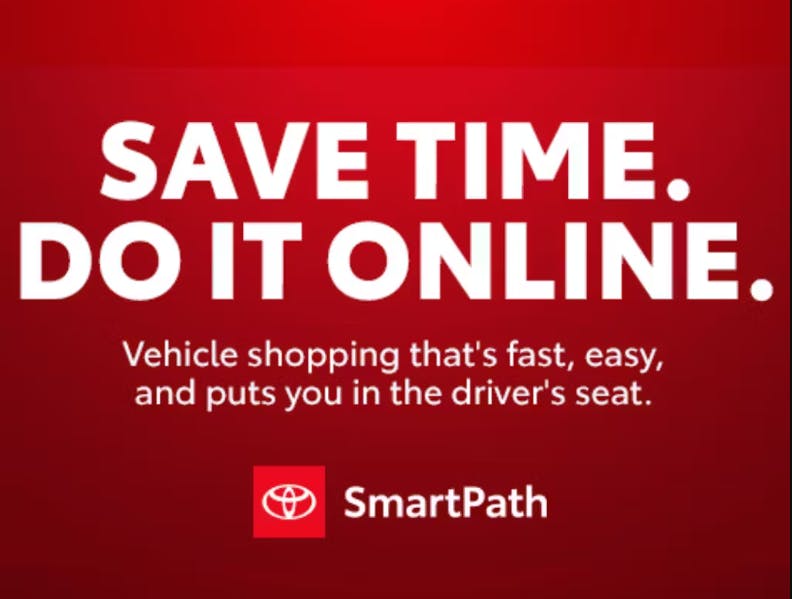 SmartPath: A Revolutionary Way to Buy Your Next Toyota
Are you tired of the traditional car-buying experience with its endless paperwork and hidden surprises? Look no further because now, you can transform the way you purchase a Toyota by using SmartPath – a groundbreaking approach that puts the power back in your hands. In this blog post, we'll dive deep into the innovative features of SmartPath, which allows you to find the perfect Toyota, customize your deal, and finalize your purchase exactly the way you want. Say goodbye to outdated car shopping sites and hello to a seamless and transparent process.
SmartPath Features:
Access to Actual Inventory
Are you tired of visiting car dealerships only to discover that the vehicle you had in mind is no longer available? SmartPath eliminates this frustration by providing real-time inventory listings and current pricing for all vehicles on the lot. Let's compare SmartPath to traditional websites:
| | | |
| --- | --- | --- |
| Feature | SmartPath | Traditional Dealerships |
| Access to Actual Inventory | Real-time, up-to-date inventory | Often outdated inventory listings |
| Current Pricing | Transparent pricing | Hidden or outdated pricing |
| Missed Opportunities | Never miss out on a deal | Risk missing out on great deals |
Transparent Pricing
With SmartPath, you can unlock available savings, ensuring that the estimate you see online matches what you'll pay at the dealership. The built-in payment calculator provides a line-by-line estimate of your purchase, ensuring full transparency. Let's examine the difference:
| | | |
| --- | --- | --- |
| Feature | SmartPath | Traditional Dealerships |
| Unlock Savings | Transparent pricing | Risk unexpected costs |
| Online Estimate | Online price equals in-dealership price | Online prices may differ from the in-person price |
| Payment Calculator | Detailed, line-by-line estimate | Lack of detailed estimates |
Time-Saving Convenience
SmartPath gives you control over the car-buying process and saves you precious time. Whether you prefer a completely online experience or an in-person visit, SmartPath streamlines the process, making it hassle-free:
| | | |
| --- | --- | --- |
| Feature | SmartPath | Traditional Buying |
| Customer Empowerment | Puts you in control | Relies on dealership process |
| Online/In-Person | Choose your preference | Predominantly in-person |
| Simplified Process | Few simple steps to purchase | Potentially cumbersome process |
How SmartPath Works:
1. First-Time Buyers' Guide
If you're new to purchasing a Toyota online, SmartPath has you covered with a step-by-step process and available customer support. This ensures you're comfortable with every step:
2. Browse Available Vehicles
SmartPath allows you to browse real-time dealer inventory, enabling you to see exactly what's available and what you love. You can save your preferred vehicles to your account, ensuring you don't miss out on your dream car.
3. Customize Payment Estimates
SmartPath's Payment Estimator, coupled with the latest offers, empowers you to find terms that fit your budget. It also provides an instant valuation of your trade-in vehicle and allows you to customize your new Toyota with accessories and protection products.
4. Apply for Financing
Once you're satisfied with your payment estimate, SmartPath allows you to apply for financing on the spot, streamlining the process even further.
5. Finalize Your Purchase
Share your selections with the dealer and choose between in-person or online finalization. SmartPath also confirms your trade-in value before you sign off on your purchase.
The traditional car-buying experience can be daunting, but SmartPath redefines the way you buy a Toyota. With its real-time inventory access, transparent pricing, and time-saving convenience, it offers a hassle-free alternative. So, if you're in the market for a new Toyota, we highly recommend you give SmartPath a try at North Georgia Toyota. It's the way forward in modern car buying, putting you in control and ensuring a smooth and satisfying experience from start to finish. Don't miss out on this innovative approach to buying a car; visit North Georgia Toyota and make your next Toyota purchase an exceptional one with SmartPath.
Back to Parent Page